Cleveland Wedding Photographers and Filmmakers
About
Human Artist Photography is a Cleveland based Wedding and Portrait photography studio. Yevhen and Julie started Human Artist Photography in 2013.
Our work is characterized by its ability to capture the subtle nuances and soft romanticism of each wedding, creating images that feel both timeless and fresh.
Our Style
Wedding Photography + Cinema
Our approach often involves a careful balance between candid moments and composed, artistic shots, ensuring each image resonates with emotional depth and visual harmony.
We adopted this style to provide our clients with the highest quality, luxury wedding photography available.
Our dedication to quality and meticulous attention to detail guarantees that your wedding photographs will do more than just document the day's events; they will encapsulate the essence and emotions of each moment, creating a timeless narrative of your special day.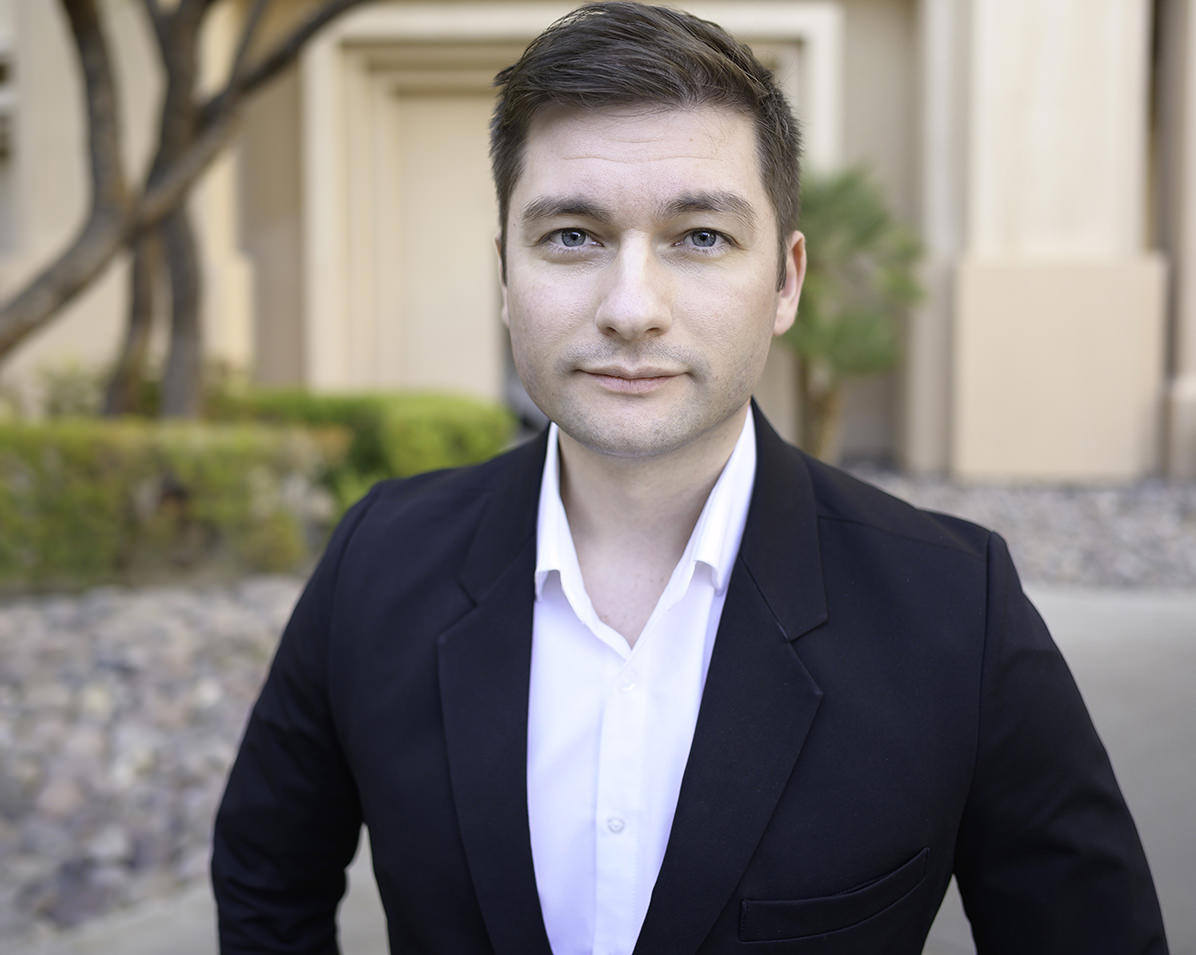 Yevhen
Hey there, folks! I've been told that I'm a pretty passionate person, especially when it comes to photography. There's just something about the process of creating beautiful images that gets me all fired up! And let's not forget the rush of seeing those images in their final form – it's like Christmas morning every time!
As a business owner and photographer, I can honestly say that I'm living my dream. And the best part is that my love for what I do shines through in every image I create. I mean, who wouldn't want to spend their days capturing love stories and creating beautiful memories?
Believe it or not, I actually started out on a different path. I studied philosophy and theology with the hopes of becoming a priest! But as it turns out, I was always meant to be behind the camera, capturing life's most precious moments.
I've come a long way since my days as a school photographer and graduate student creating headshots. But one thing has never changed – my passion for photography. It started as a hobby, but it's become so much more than that.
What started as a hobby has evolved into a career and still remains a passion.
I'm a kettlebell fanatic, but my swings need more swing!
Assistant Photographer, Co-Owner
Julie
My love story with photography runs parallel to my love story with Yevhen. Just two weeks after we met, he asked me to join him on a wedding shoot. I had never even touched a camera before, but I was head over heels and unwilling to turn down the chance for the next "date", so I said yes!
That first wedding together was absolutely magical! I was taken by the limitless beauty and celebration that accompanied this lifelong commitment to love, as well as all the traditions that made this Ukrainian-Romanian wedding day unforgettable over a decade later.
I'm now a wife, a mom, and a degree-holding opera singer. And my love for wedding photography has only grown stronger through the years. Loving on our wild and curious little son has made me more detail-oriented than ever amidst the bustle of the wedding day. Serenading restaurant patrons and theater-goers on the weeknights has encouraged me to focus loads of attention on the beautiful atmosphere we build throughout the performance. Then, as I step out of the house on Saturday morning to assist Yevhen, I aim to capture that special wedding day energy from behind the camera, while ensuring that everyone in front of the camera is feeling cozy and having the time of their life!
I love my husband and son more than wine and cheese!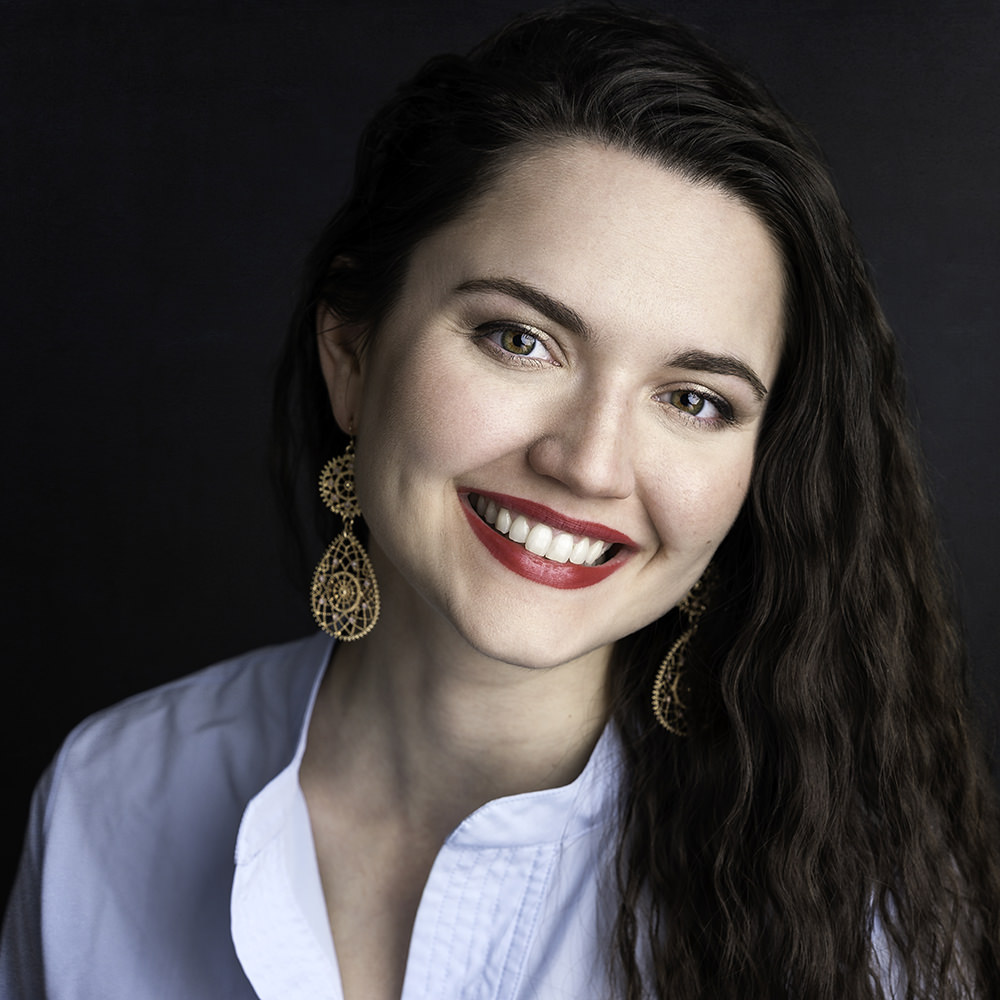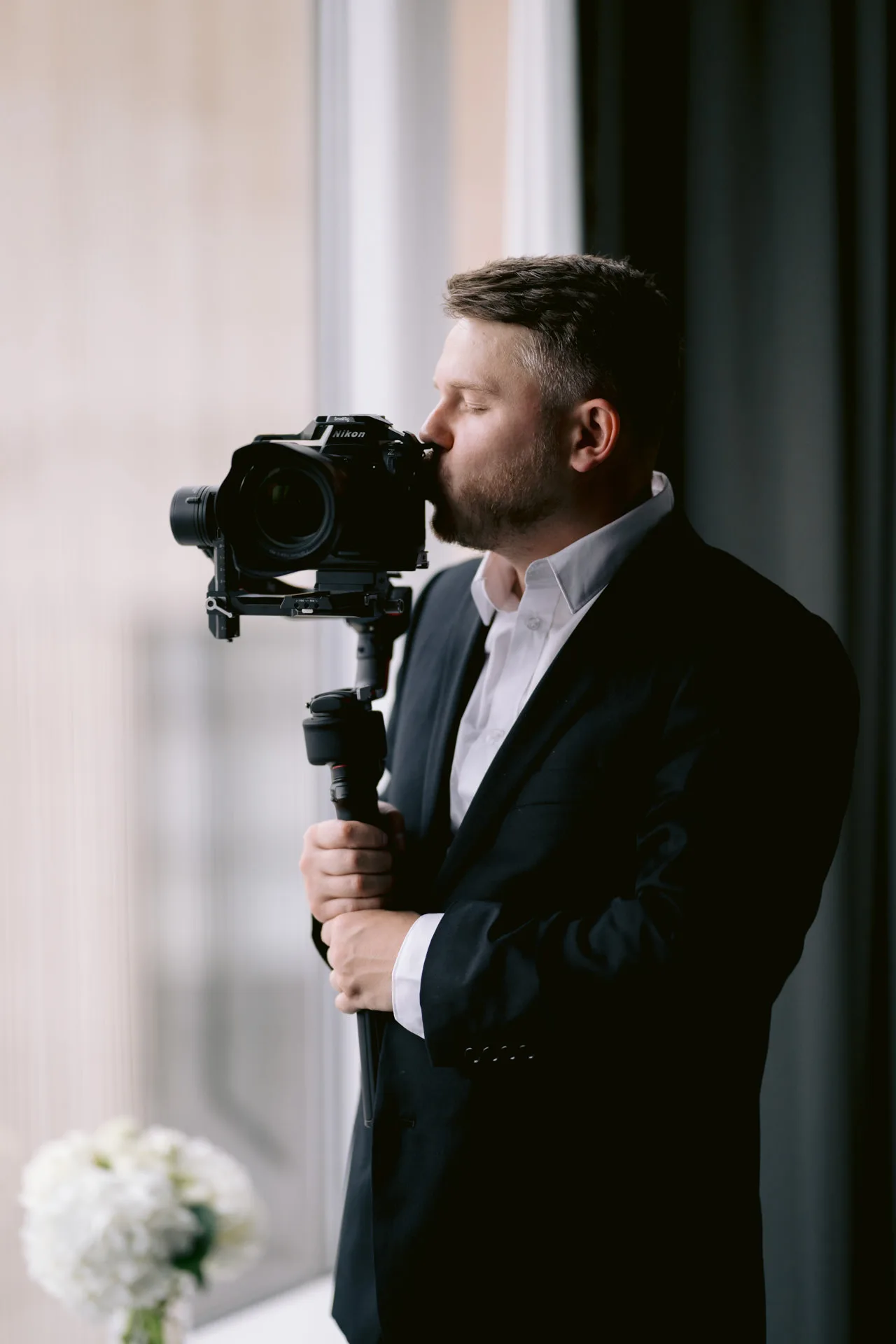 Serhii
Serhii, a native of Ukraine, brings a wealth of experience to the world of videography. With a diverse portfolio spanning across Europe and the United States, he has expertly captured the magic of hundreds of weddings. Beyond his wedding expertise, Serhii has lent his creative vision to a multitude of commercial projects, from TV commercials to product videos and event coverage.
His talents have even graced high-end fashion brands like Hugo Boss and Dolce and Gabbana, where he produced captivating fashion reportage. Serhii's refined skills in video timeline construction and editing ensure that your wedding video will be nothing short of exquisite.
Whom do we love working with?
We love working with adventurous, relationship-oriented people with a lifestyle that embraces cultural interests such as art, music, travel, and cuisine, and who have the preference for meaningful choices.
Frequently Asked Questions
Here are some frequently asked questions regarding Human Artist Photography style, business details, coverage, travel, and other topics related to Cleveland wedding photography coverage, and wedding photography coverage beyond Northeast Ohio. Please feel free to contact us if you have any other questions regarding our wedding photography services.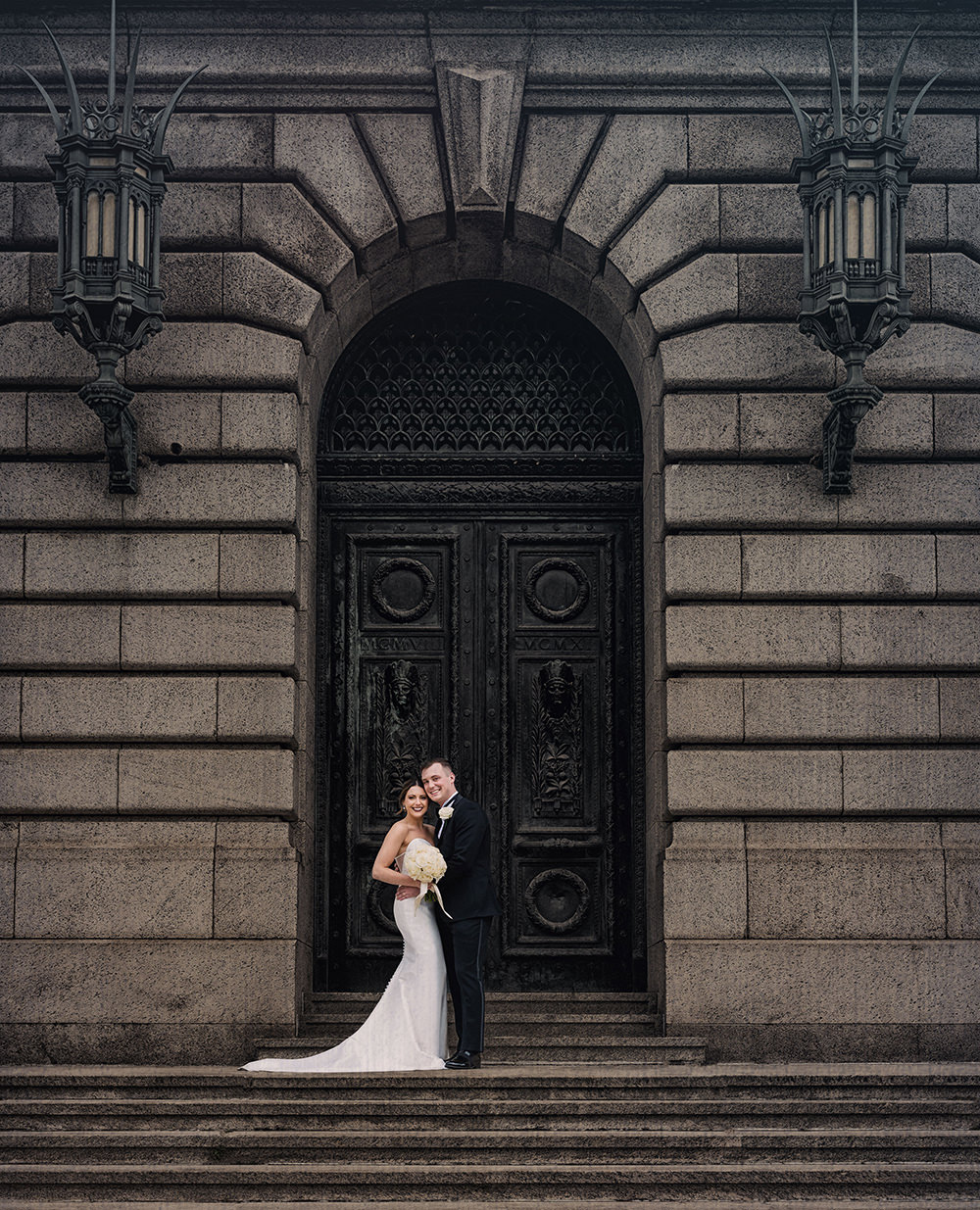 Process And Goals
Process And Goals
We channel our creative energy into exploring every possible angle for that ideal photograph, even if it means getting down and adventurous, just like seasoned explorers! For us, photography is a blend of art and skill – akin to painting with light, infused with a touch of technical wizardry. We're passionate about quality and technical excellence! Rest assured, our primary aim is always to provide you with the most stunning and memorable photos you've ever seen!
Why should we pick you as our photographer?
Our photography service is distinguished by a perfect blend of candid moments and artfully composed shots, each resonating with emotional depth and visual elegance. We specialize in creating luxury wedding photography that transforms your special day into a timeless narrative, filled with balanced colors, dynamic compositions, and a unique personal touch. Here are some key reasons why choosing us for your wedding photography will ensure that every moment is remembered in its truest, most beautiful form:
Balanced Photography Style: Our approach skillfully combines candid moments with composed, artistic shots, ensuring each photo is emotionally rich and visually harmonious.
Luxury Wedding Photography: We provide high-quality, luxury photography services, ensuring your wedding photos are a cut above the rest in terms of elegance and style.
Capturing Essence and Emotion: Our focus on capturing genuine emotions and stunning moments, blended with elegant poses, results in a unique and deeply personal visual narrative of your special day.
Attention to Every Detail: From grand gestures to the tiniest details, we ensure every aspect of your wedding day is captured with elegance and flair.
Artistic and Meticulous Approach: We creatively utilize angles and perspectives to craft images that are visually stunning and emotionally impactful.
Transcending Ordinary Photography: Our style stands out with its vibrant colors, skillful use of light, dynamic compositions, and a sophisticated flair.
Timeless Wedding Narrative: Our photographs tell a timeless narrative of your wedding, encapsulating the spirit and emotion behind each moment.
Personalized Experience: We tailor our photography to reflect your unique story, ensuring your wedding album is as individual as your love story.
Quality and Technical Excellence: Our commitment to quality and technical perfection means you receive not just photos, but masterpieces of your special day.
Unforgettable Memories: With our photography, we promise to deliver not just images, but unforgettable memories that you will cherish forever.